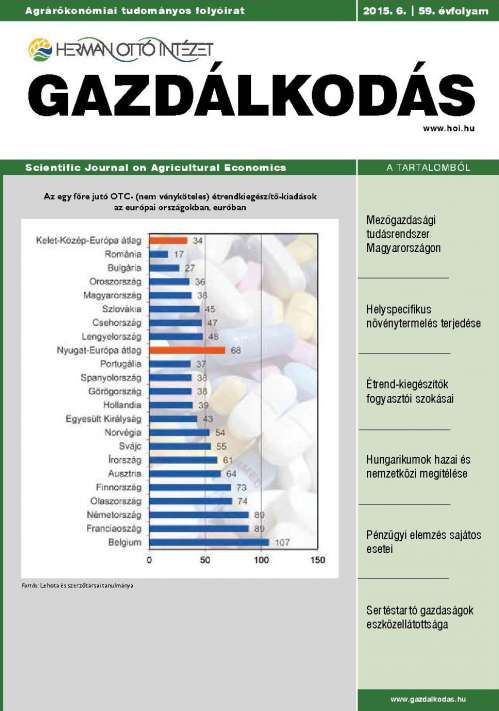 Monitoring the Assets Supply and Investment Capacity of Pig Farms in Hungary
Ábel, Ildikó – Hegedűsné Baranyai, Nóra
Keywords: sector, investment, investment subsidy, capital assets, amortisation, Q12
The aim of this study is to analyse Hungarian pig breeding with special regard to the companies' available assets, composition of fixed assets, volume of depreciation, gross and net investments as well as the amount of funds used.
Our research found that up until 2012 the asset status of private farms was less favourable as the value of investments did not exceed amortisation value, thus no finance for advancement was available. On the other hand the investment activity of large business entities showed an upswing thanks to their better capabilities to exploit sources of financial support. This contradiction is valid even if we consider the fact that the last year of the observed period already saw a rise in the utilisation of support by private farms as well. While business organisations were characterised by large scale multi-annual real estate investments, private players were more in favour of machinery or breeding stock purchases.
Under the period reviewed, farmers keeping fewer than 50 pigs attempted to increase their breeding livestock, and in parallel they invested less in real estate and machinery. Regarding medium-sized farms (50-150 pigs), the situation was not as clear. In 2010, this group invested in breeding stock, while in 2011 the real estate investments were in focus. From 2012, machinery purchase was dominant. Large farms with more than 150 pigs made breeding stock investments for the first two years and focused on real estate development afterwards. The net value of investments was firmly negative for both small and medium-sized enterprises as their development lagged behind, their equipment was deteriorating and no replacement materialised. Typically, only large-scale farms were able to complete development projects as they had the resources and facilities to access investment funds.
Our research found that there was no realised business development to speak of on private farms with low numbers of livestock. Bigger farms have already performed some investment activity, but it can be the subject of a future study to analyse whether these investments were geared towards innovation or rather to comply with animal welfare standards.