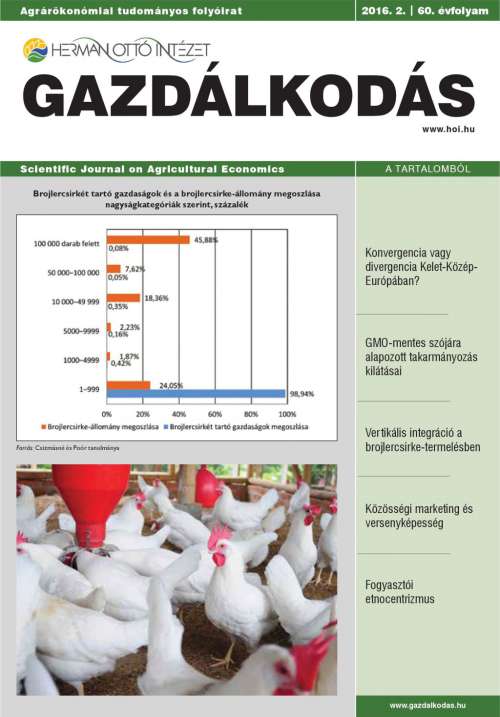 Feeding Based on Non-GM Soybean – The Outlook in Hungary
Tikász, Ildikó Edit – Varga, Edina
Keywords: full-fat, price premium, sustainability, value chain, standard, Q11
The European Union (EU) provides 31 per cent of its protein feed demand from its domestic market, so in order to increase the level of self-sufficiency the cultivation of soy and other alternative sources of protein is enjoying increasing financial support. Despite significant import dependency, the EU is the largest market for sustainable and non- GM certified soy products in the world, although their additional costs are high. This is related to the strengthening of social responsibility experienced in most of the western EU Member States. For example, in the EU, GM-free soybean meal consumption amounted to 5 million tonnes in 2014, representing 15 per cent of total demand.
Hungary's protein import dependency is also high. However, the Government, in addition to its commitment to non-GM crops, hopes that the extent of the use of non-GM raw materials in feed production, livestock farming and food production, based especially on domestic protein sources, will increase further in the future.
The study aims to determine whether feeding based on non-GM soybean meal has a medium and long term future in Hungary, a country with low self-sufficiency in protein. Though the Hungarian Government is committed to GM-free production, to achieve the goals, neither strategic steps nor support tools have been determined along the entire value chain. About 60 per cent of the domestically produced non-GM soybeans are sold on foreign markets i.e. the production barely contributes to meeting Hungarian needs. Voluntary coupled support from the Common Agricultural Policy in the period 2015-2020 is helping to scale up non-GM soybean production in Hungary, but the soybean area, according to the most likely scenario, could increase at best to 100 thousand hectares within five years. In the case of improving production quality, this allows, in the optimistic case, 286 thousand tonnes of soybean to be produced. This amount, if the livestock headcount remains the same, would satisfy only half of the annual soybean meal demand in 2020. However, meeting the remaining demand by imported non-GM soybean meal would place a significant additional burden on operators in the value chain. The value of this may exceed HUF 12.8 billion in 2020, taking into account the 6 million heads of pigs foreseen in the national pig strategy. Research which could help the food industry to engage in non-GM food production, surveys testing the consumers' preference system and testing the mechanism of action of the system of non-GM standard would ensure that a larger share of non-GM soy products produced in Hungary is sold on the domestic market, and may contribute to the production of high value-added food products.