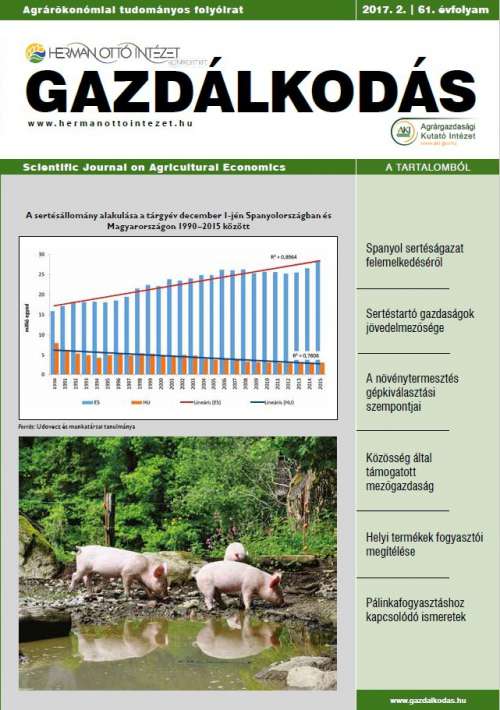 Regional Research of Community Supported Agriculture
Gombkötő, Nóra – Vincze, Judit – Hegyi, Judit – Kacz, Károly
Keywords: short food chains, community supported agriculture, questionnaire survey, local product, consumer habit, Q13
In recent years, community supported agriculture systems have played an increasingly important role in local food systems in Western Europe and in North America. The topic may also be a priority for agriculture in the Central and Eastern European countries, because short food chains offer a solution to several problems. Physical distance between producers and consumers will be reduced by these food chains and, contrary to long supply chains, personal relationships, confidence and organic certification are built into the system as a guarantee of quality. It will provide the opportunity for local small farmers to produce quality foods and realise direct marketing. Meanwhile the convenient access to tasty local foods is guaranteed for consumers.
Community supported agriculture as a type of farming is not yet well established in Hungary; it would require improvement and wide-ranging support. Based on a questionnaire survey carried out with Transdanubian farmers and consumers, we conclude that the number of elderly (over 45 years old) farmers is higher, furthermore a smaller proportion of farmers is engaged in production of animal products. Their need for area is heterogeneous, so a generally applied 'optimal scale of operation' is difficult to define numerically.
In the case of community supported agriculture, products are mostly sold at traditional markets or special producer markets (sometimes by 'door sales'). Other distribution channels are less used by these farmers, and PSOs (Product and Sales Organisations) are not used by them, therefore they miss several opportunities.
Types of community supported agriculture are less known by consumers. The so-called community of consumers is known by only a quarter of costumers, while the so-called subscription/box system and the so-called share farming are each preferred by only 3 per cent of consumers. This is partly due to the lack of awareness and partly the special characteristic of this farm type. It would be advisable to popularise the community supported agriculture system as well to expand its productive capacity.