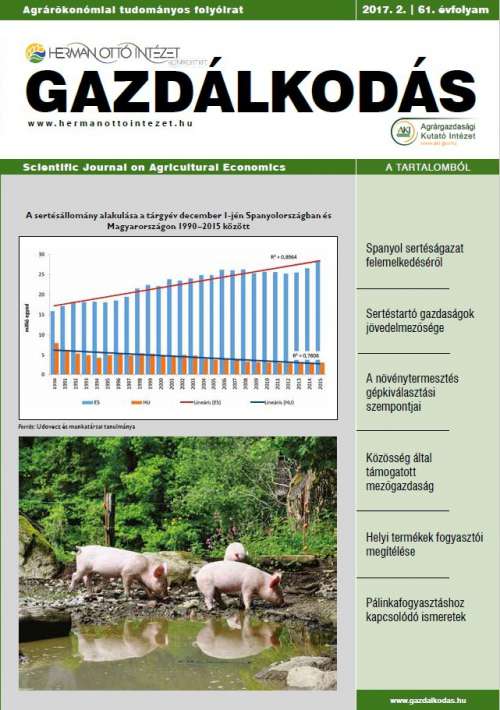 The Consumer Assessment of Local Products
Ferencz, Árpád
Keywords: self-organised community, local market, short supply chain, Q13
In this study, we explore the possibilities for marketing local products from the producers' and consumers' points of view. Farmers' markets with local products have become regular events in the main square of Kecskemet where, in addition to local farmers, crafts and cultural events also take place. This complex scheme, beyond the shopping experience, also gives both vendors and participants at the fair a sense of community organising power. In addition to organising exhibitions, an important purpose is to provide a platform for cooperation, and incentivise representatives of the production, processing, research and sales sectors to develop and preserve the traditions of local agriculture.
The results in the study come from questionnaires completed by the artisans, farmers, and visitors and buyers. In the questionnaires closed, multiple choice questions were used, followed up by personal interviews. Many respondents see traditional fairs as a successful sales channel, but they consider the low purchasing power of the customers as a limiting factor. Our survey shows that more and more people are looking for quality, handcrafted products; at the same time there are a high percentage of those who cannot buy them because of low earnings. Buyers who are consciously looking for Hungarian products represent 50 per cent of the respondents; many people still continue to prefer price over the place of origin. We confirmed that the Internet is the largest information provider, even in relation to traditional fairs. Most of the respondents marked the purchase of food consumed on site as the main attraction. An increasing demand for quality products from trusted sources can be also easily traced from the customers' replies.
The preference for Hungarian products could help to develop the local economy and the countryside. In addition, the fair provides an opportunity for self-organisation along the shared values of participants of the local economy. A network of contacts, on which the organisation of the fairs is based, could also provide a basis for co-operation at a higher level.