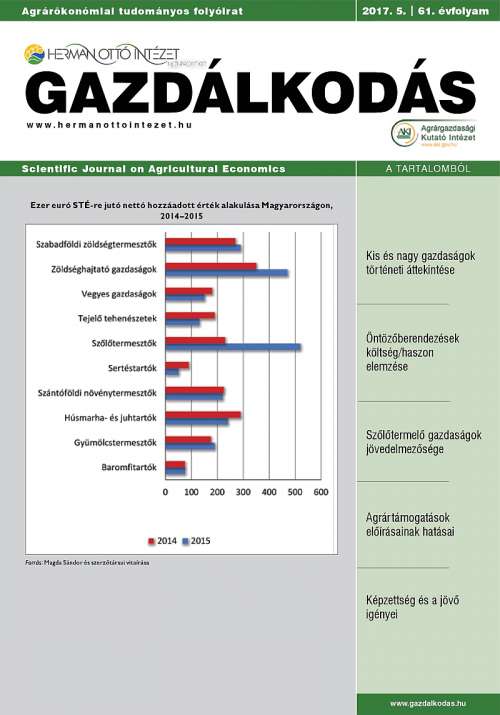 Education Levels in the Agricultural Economy and Future Requirements
Magda, Sándor – Marselek, Sándor – Magda, Róbert
Keywords: agrarian economy, agricultural training, rural employment, consulting, educational farms, J21, J24, R23
Our study is intended to serve the purpose of a keynote address for agrarian education. According to verifiable statistics, Hungary does not exploit its agri-business possibilities, innovative solutions are not prevalent, and in many cases, even proper expertise is scarce. European experience demonstrates that successive and interconnected education as well as universities and research institutions active in various fields may be the key to transferring competitive knowledge successfully. Education must be brought closer to practice; it must also be considered whether this direction may be more successful in undivided training. Investing in human capital is a fundamental task.
The competitiveness of Hungarian agriculture is unfavourable, the education level of employees and farmers is low. This also proves that education, an investment in human resources, must be our primary goal. The knowledge level of our competitors in the market is decisive, unless we recognize this, our fall-back cannot be changed.
In the absence of adequate knowledge, farmers cannot utilize economic, financial, technical and market conditions.
According to our research, a significant renewal of the training system is needed to continuously provide workforce for agriculture and the food industry. It is necessary to update training, to implement practice-oriented training, to follow up technological developments and to increase the proportion of managerial skills in education. The future may bring significant challenges, we must prepare for this.
Practice-intensive agricultural training should be based on rural campuses as undergraduates will become the agricultural experts of the area. In order for the Hungarian agriculture to succeed again, it is necessary to have qualified managers and well-trained workers.
We must be aware of the fact that development in Hungary is not independent of global trends. It is important to follow these trends as it is expected that digitalisation and technical improvement will further accelerate and robots are already also being developed, which reflect the main trends of the future.